Riverside Cemetery
1301 S. Superior St.
Albion, MI 49224
Phone: (517)629-2479

Albion Memory Gardens
26905 B Drive South
Albion, MI 49224
Phone: (517) 629-8700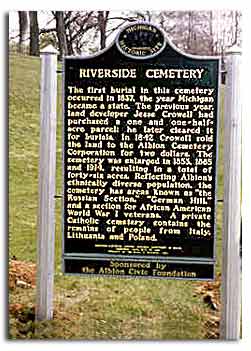 R
iverside cemetery:
Listed on the State of Michigan Register of Historic Places in 1996. A historical marker was dedicated on May 18, 1997.


Marker text (Side1)
: "Riverside Cemetery. The first burial in this cemetery occurred in 1837, the year Michigan became a state. Land developer Jesse Crowell had purchased a one and one-half acre parcel in 1836, and cleared it in 1837 for use as a burial ground. In 1842, Crowell sold the land to the Albion Cemetery Corporation for two dollars. The cemetery was enlarged in 1853, 1885, and 1914, resulting in a total of forty-six acres. Reflecting Albion's ethnically diverse population, the cemetery has areas known as "The Russian Section", "German Hill" and a section for African-American veterans from World War I. A private Catholic cemetery contains the remains of people from Italy, Lithuania, and Poland."
Marker text (Side2):
"Originally known as Albion Cemetery and Albion Burying Ground, this cemetery was named Riverside in 1886 by the City Council. In addition to a unique array of tombstones, the cemetery includes impressive mausoleum, an office, a receiving vault and a fishpond. Riverside Cemetery contains the remains of Albion pioneers and veterans as well as distinguished and notorious citizens. Those interred here include Washington Gardner (1845-1928), who served in the U.S. Congress and as Michigan's Secretary of State; and Michigan State Senator Warren G. Hooper (1905-1945) who was shot gangland style before he could appear before a grand jury and testify regarding corruption."
The Hooper case remains one of the most famous unsolved murder mysteries and a significant political event during the late 1940's in Michigan. Self guided tours/maps are available at the Greater Albion Chamber of Commerce and admission is FREE.
Most Lithuanians and their descendants are buried in the southern sections of the cemetery, including the Catholic section. The cemetery records transcribed here contain numerous bits of information as supplied: Last name, first name, middle name, date of birth, date of death, burial date, block/lot/grave number, ledger page number, name of father, maiden name of mother, name of spouse, some names of children (usually daughters with different married surnames listed) if supplied, veteran information, and other information such as year they came to Albion. Block numbers in the "900s" refer to the Catholic Section of the cemetery, and will have a page number beginning with "C," as in for example, "C-14." Some information has been obtained from the obituary of the deceased.
Names of non-Lithuanian spouses are also included in this listing. [NOTE: No Lithuanians buried here with surnames A through F]
---

Albion Memory Gardens is a relatively new commercial cemetery begun in the late 1950s. It is located just outside the Albion city limits on the northest corner of Irwin Avenue and Finley Drive.
---
Connected successfully
A
B
C
D
E
F
G
H
I
J
K
L
M
N
O
P
Q
R
S
T
U
V
W
X
Y
Z
Original View
(
Total Number of Records in Database
:
4
)
Riverside & Albion Memory Gardens listings
Jasenas, Albert J. Cemetery: Riverside
Inscription/Remarks: b. 1 September 1918 Jackson, Michigan. d. 24 July 1984, Albion, Michigan. Burial Nov 4, 1985. Block 901, Lot 17, Grave 1, Page C-2. Father: Vincent Jasenas. Mother: Damicele Karpiuciute. Wife: Barbara A. Bown. Married 26 April 1938, Angola Indiana. Cremains-in same grave as wife. Came to Albion 1939. Murdered by Allan Fleetwood & Bill Dittis.
Jasenas, Barbara A. Cemetery: Riverside
Inscription/Remarks: BOWEN b. 30 Aug 1919 Muskegon, Michigan, d. 30 October 1985 Spring Arbor, Michigan. Age 66. Burial November 4, 1985. Block 901, Lot 17, Grave 1, Page C-2. Mother: Mary Spaulding. Father: Silas Bowen, Sr. Husband: Albert J. Jasenas. Married 26 April 1938, Angola, Indiana. Cremains in save grave as husband.
Jasiulevicius, Ema Cemetery: Riverside
Inscription/Remarks: KYNAITE. b. 28 November 1899, Mureikai, Lithuania. d. 22 May, 1974. Age 74. Burial 24 May 1974. Block 119, Lot 10, Grave 2. Page 1463. Father: Gotfrydas Kynaitis. Mother: Marijona Verneryte. Husband: Kostas Jasiulevicius. Married April 13, 1937 in Lithuania.
Jasiulevicius, Kostas Cemetery: Riverside
Inscription/Remarks: b. 3 February 1899, Lipniskes, Lithuania (now in Belarus). d. 11 July 1978 Albion, Michigan, age 79. Block 119, Lot 10, Grave 1. Page 1463. Father: Matthew Jasiulevicius. Father: Catherine Burblys. Wife: Ema Kynaite. Married 13 April, 1937 Lithuania. Came to U.S. 1950. Occupation: Shipping Dept., Corning Glass Works.
Today is Tuesday 16th of January 2018 03:51:06 am (server time)
If you have a database or information that you would like to put into our database, that pertains to Lithuanian genealogy, please contact us at webmaster@lithuaniangenealogy.org