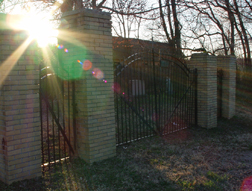 Update (4Feb2015): Back in April of 2010, the Lithuanian American Community of Philadelphia had expressed an interest in taking over ownership of this cemetery as recent storms had damaged trees, which had then fallen on tombstones. At that time LAC expressed a desire to legally take over this cemetery for care. Unfortunately, I do not know if that ever happened Please contact me if you have any additional information!

St. Mary's Lithuanian National Catholic Cemetery has been abandoned and was once part of a church that had an office at 331 Reed Street in Philadelphia, PA and was originally organized in 1926. However, the church is no longer in existence and 331 Reed Street is a vacant lot. The township is having the grass cut during the summer months (by a good samaritan) and placing flowers on the graves and a wreath on the gate at Christmas. The cemetery is off Galloway road between Knights Road and Hulmeville Road.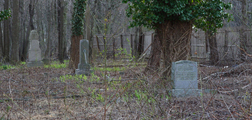 This cemetery was once active and several graves have been moved over the years. For convenience we have numbered the stones so that any additional information, such as a photo (if available) of the stone and/or condition of the stone be easily viewed by clicking on the Stone ID number (opens a new window).

Lastly, because this cemetery has been abandoned, the township is looking for an organization (e.g. Lithuanian church, group, organization) to take over the upkeep and handling of this cemetery. If you are part of a group that would be willing to take ownership of this cemetery, please do not hesitate to contact us. A special thanks goes out to Katherine Pitluck, who collected the information found in this database and was kind enough to share it with us. We hope that between her efforts, and the efforts of others, that this cemetery can be reclaimed and maintained in the future.
---
Connected successfully
A
B
C
D
E
F
G
H
I
J
K
L
M
N
O
P
Q
R
S
T
U
V
W
X
Y
Z
Original View
(
Total Number of Records in Database
:
22
)
Name

Date of Birth

Date of Death

Inscription
Andziulaitis, Jurgis
Stone ID: 2

10-May-1928

13-Apr-1958

Bartasius, Jonas
Stone ID: 3

05-Apr-1925

M., Amziaus 46, Metu, My Jesus Mercy
Bukenas, Joseph
Stone ID: 4

19-Mar-1905

09-Jun-1938

Critzer, Agnes W.
Stone ID: 5

16-May-1905

Mother
Czerkas, Maria
Stone ID: 10

10-Jan-1905

31-Mar-1905

1837, Z Marla 1917
Dumblawskis, Petras
Stone ID: 15

22-Aug-1926

Gbzebiwiewskis, Wladislaw
Stone ID: 8

15-Feb-1905

10-Apr-1905

Urodzil Sie 1873, Zmar-Dnia 29, Grudnia 1927
Globis, Joseph
Stone ID: 9

03-Jan-1927

Age 45 Years
J B,
Stone ID: 7

Kazimieras, Vebra
Stone ID: 6

11-Jun-1930

Amziaus 42 M.
Kiseliauskas, Victoras
Stone ID: 12

30-Sep-1928

Anziaus 8. M.
Kulick,
Stone ID: 18

Lukosius, Jonas
Stone ID: 14

18-Feb-1905

12-Apr-1905

Parapiionas, JP
Stone ID: 15

P?rmas
Plutch, John J.
Stone ID: 16

23-Dec-1881

11-Jul-1959

Plutch, John
Stone ID: 17

10-Jul-1916

28-Feb-1937

Jr.
Plutch, Martha
Stone ID: 11

22-Jun-1892

22-Jun-1953

My Jesus Mercy
Rutkauskas,
Stone ID: 19

Stankus, Juozapas
Stone ID: 1

08-Dec-1887

24-Mar-1928

Steradumsky, Juzeja
Stone ID: 20

22-Feb-1905

09-Jan-1929

Waclaw,
Stone ID: 13

Waclaw - Lech [ 3 lines illegible]
Zitkus, John J.
Stone ID: 22

07-Mar-1905

10-May-1905
Today is Sunday 17th of December 2017 03:57:23 am (server time)
If you have a database or information that you would like to put into our database, that pertains to Lithuanian genealogy, please contact us at webmaster@lithuaniangenealogy.org