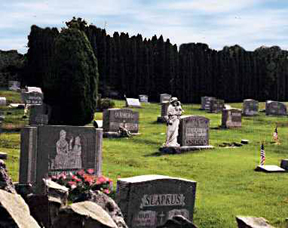 In these pages, we have provided an alphabetical listing of those buried at St. Casimir's Cemetery in Schuylkill County, St. Clair, Pennsylvania. The cemetery is in the Mill Creek section of Port Carbon, to the south of St. Clair off Mill Creek road.

If you have additional information regarding this cemetery, or for any surname listed on this page, please contact us .

To access this database, please click on the first letter of the surname of interest.
---

Connected successfully
A B C D E F G H I J K L M N O P Q R S T U V W X Y Z Original View
(Total Number of Records in Database: 0)



Today is Friday 23rd of February 2018 06:19:22 pm (server time)
If you have a database or information that you would like to put into our database, that pertains to Lithuanian genealogy, please contact us at webmaster@lithuaniangenealogy.org