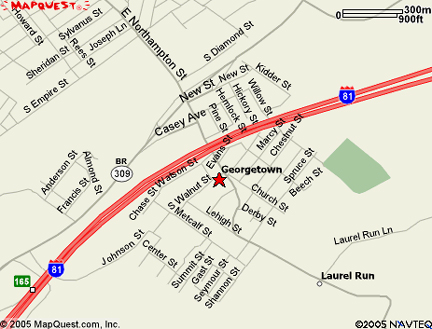 The Holy Trinity Lithuanian Catholic Cemetery is located in Georgetown (red star on map), a section of Wilkes-Barre Township. From center city Wilkes-Barre, take East Northampton Street out of the city. Continue past Route #309 and into W-B Township (Georgetown area). Turn left on Spruce Street and then turn left on Willow Street. After crossing over a highway bridge, turn right onto a dirt road. The cemetery is about 100 yards on the left. (Note: the red star does NOT indicate the exact location of the cemetery since we currently do not have an exact address).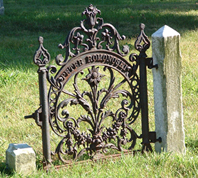 This cemetery is closed (no longer active) and in need of repair. There is currently a small group of volunteers working to maintain the cemetery. Holy Trinity Church (416 E. South St, Wilkes-Barre, 570-820-3394) is the caretaker . Many stones were unreadable, some are damaged, some are missing. The names on this list are not a complete listing of those buried at Holy Trinity Lithuanian Catholic Cemetery. LGGS would like to update this information and gather more listings from this cemetery as well as photos of each headstone.

If you have additional information on any individual buried at Holy Trinity Lithuanian Catholic Cemetery in Georgetown, Pennsylvania, or if you live in the area and can assist in updating the information in this database, please contact us!
---
Connected successfully
A
B
C
D
E
F
G
H
I
J
K
L
M
N
O
P
Q
R
S
T
U
V
W
X
Y
Z
Original View
(
Total Number of Records in Database
:
14
)
Balavage, Mary
Date of Birth:
Date of Death:
Inscription/Remarks:
See Baleaviciene Mary
Bekampis, Mary
Date of Birth: 1880
Date of Death: 1935
Inscription/Remarks:

Beskauskas, Juozas
Date of Birth: 1907
Date of Death: 1918
Inscription/Remarks:

Balcierus, Simanas
Date of Birth:
Date of Death: 1935
Inscription/Remarks:
Rozie Jio Pati
Beratisie, Juozas
Date of Birth: 1890
Date of Death: 1932
Inscription/Remarks:

Beskauskas, Wlodislovas
Date of Birth:
Date of Death: 1918
Inscription/Remarks:

Baleaviciene, Mary
Date of Birth:
Date of Death: 1935
Inscription/Remarks:

Bernesky, Alexander L.
Date of Birth: 1894
Date of Death: 1924
Inscription/Remarks:
Sailor
Burak, Anthony
Date of Birth: 1869
Date of Death: 1917
Inscription/Remarks:

Baltuskiene, Alzbieta
Date of Birth: 1859
Date of Death: 1917
Inscription/Remarks:

Berzinskas, Antanas
Date of Birth: 1875
Date of Death: 1925
Inscription/Remarks:

Burak, William
Date of Birth: 1867
Date of Death: 1904
Inscription/Remarks:

Balunis, Dominik
Date of Birth:
Date of Death: 1932
Inscription/Remarks:

Beskauskas, Antanas
Date of Birth: 1911
Date of Death: 1912
Inscription/Remarks:

,
Date of Birth:
Date of Death:
Inscription/Remarks:

Today is Friday 23rd of February 2018 06:17:47 pm (server time)
If you have a database or information that you would like to put into our database, that pertains to Lithuanian genealogy, please contact us at webmaster@lithuaniangenealogy.org